How to Turn Your Ordinary Footage into an Incredible Cinematic Masterpiece.
If you're tired of your bland and unremarkable footage, it's time to give it a cinematic touch. By transforming your footage into a cinematic masterpiece, you can captivate your audience and bring your vision to life. However, achieving this can be daunting, especially if you're unsure where to start. In this article, we'll explore some practical tips and techniques to help you turn your ordinary footage into a stunning cinematic experience. With creativity and the right tools, you can create a video that looks like a professional filmmaker produced it. So, let's get started and learn how to turn your footage into a cinematic masterpiece that will leave your audience in awe.
Elevate Your Wedding Video with Expert Editing
Transform Your Video into a Cinematic Masterpiece with Expert Video Editing: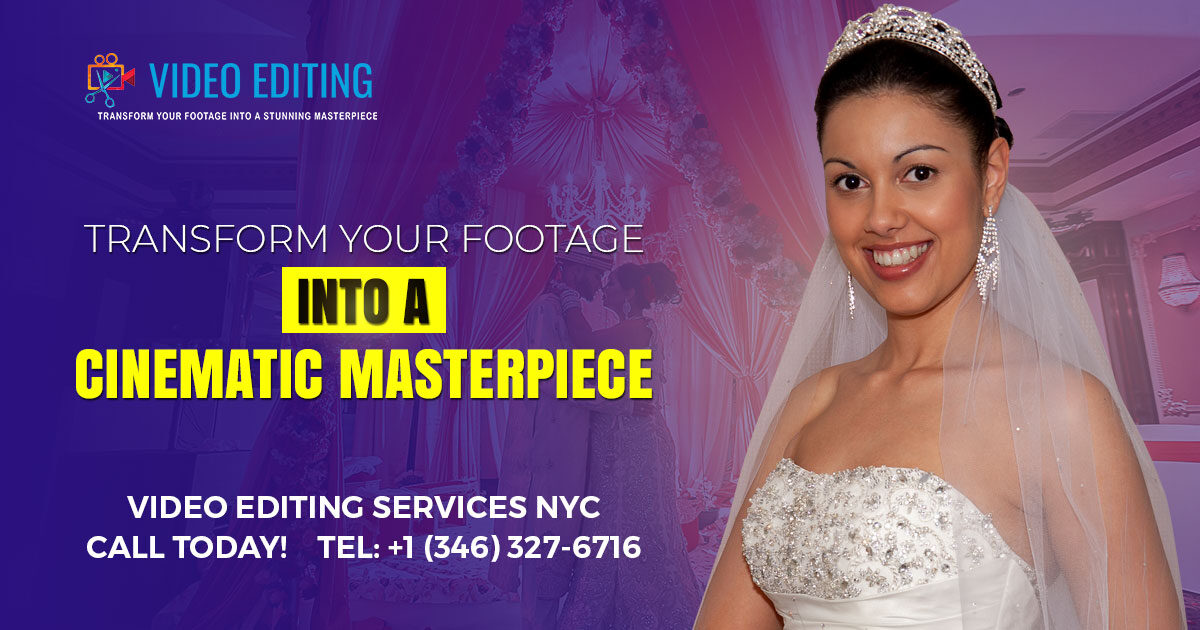 Wedding videography has come a long way in the past few years. It is no longer just a documentation of the day's events but an art form that captures the essence of the couple, their emotions, and their love story. Expert video editing is essential to ensure your wedding video stands out and captures the day's magic. In this blog post, we will provide five tips to transform your wedding video into a cinematic masterpiece with the help of professional video editing.
Start with High-Quality Footage:
The first and foremost thing you need to ensure is that you have high-quality footage. This is important because the quality of your footage will impact the outcome of your video. Ensure you hire a professional videographer with high-quality equipment and experience capturing weddings. When you have high-quality footage, you have more options for editing and can create a more cinematic and polished final product.
Select the Right Music:
Music can set the tone and mood for your wedding video. Choosing the right music is essential to create an emotional impact and enhancing your video's visual storytelling. Work with your video editor to choose music that complements your wedding's overall style and your personal preferences. They will have experience in selecting the right music to match the pace and tone of your video.
Keep it Short and Sweet:
Long wedding videos can become tedious and lose the viewers' attention. A good rule of thumb is to keep your video under 10 minutes, showcasing the most important moments of your wedding day. Your video editor will have experience cutting down footage to create a condensed yet powerful video that captures the essence of your wedding day.
Focus on the Story:
Every wedding has a unique story, and your video should tell it. Focus on the moments that best represent your love stories, such as the exchange of vows or the first dance. Your video editor can use these moments to create a narrative that takes the viewer through your wedding day.
Add Special Effects:
Special effects can elevate your video and create a more cinematic feel. Discuss with your video editor which effects work best for your wedding video. Some popular effects include slow motion, color grading, and animated titles. Adding special effects should be done subtly without overpowering the footage to maintain a natural and realistic feel.
Conclusion: A well-edited wedding video can bring back the emotions and memories of your special day. Following these tips, you can transform your wedding video into a cinematic masterpiece that will be cherished for years. Remember to work closely with your video editor to ensure that your video reflects your unique love story and wedding day.